This post brought to you by Comfort and Harmony. All opinions are 100% mine.
Recently I was given the opportunity to review the Mombo from Comfort & Harmony, the makers of Bright Starts products. When I opened the email, I thought the same thing as you just did- what the heck is a Mombo?!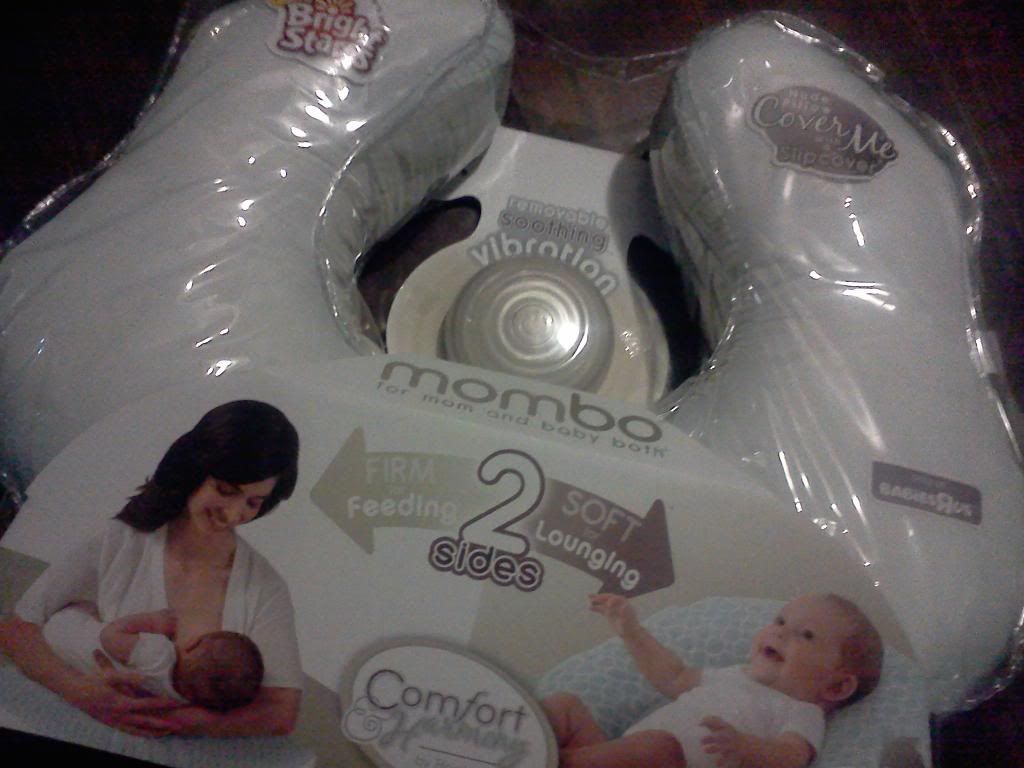 Aside from a clever sounding name, the Mombo is a brand new nursing pillow that every parent should try! Plus, we really like the packaging, because it says our name on it... sort of.
Okay, not really, but it's still attractive! Available exclusively at Babies R Us, the Mombo nursing pillow retails from about $30-55, depending on which pillow you choose, if it's already got a slip cover, and what type of slip cover you choose. They have one with taggies on it, fun and funky patterns, as well as calm, soothing colors for both boys and girls!
My little one isn't nursing anymore, but we used to nurse. We made it six months- the longest for any of my kids! I was ecstatic that I made it that long. Unfortunately, due to food allergies and sensitivites, we had to stop, but we still enjoy snuggle time- despite the fact that my little man is a year old already!
When we received the opportunity to review this new nursing pillow I jumped at it. I had used both of the other popular brands of nursing pillows and they did the trick.. but only "well enough". With the one brand, I found myself rolling it up and folding it over. The other brand had velcro, so I liked that, but I couldn't use it when I wanted to lay baby down on the floor, like the first one. It also felt way too stiff sometimes. I couldn't find a happy medium.
When our mombo came in the mail, I couldn't wait to open it! Mombo has a unique shape (for your arms to fit perfectly while nursing!) and a two-sided design called Firm2Soft. Basically, it's got two sides to it, a softer, more pillowy side that's perfect for tummy time, and a more firm, but still comfortable side, for stability when nursing. It's also got a spot for you to put this little pod into it which makes your Mombo gently vibrate. That would have been SO helpful for my coliky baby!! Mombo is the only nursing pillow on the market with removable, soothing vibrations.
Now, like I said before, my baby isn't of nursing age, but one of my very dear friends is due in just a couple of weeks, so I can't wait to let her really try this product out. For the time being, here's a few pictures of my handsome little man, hanging out with his Mombo!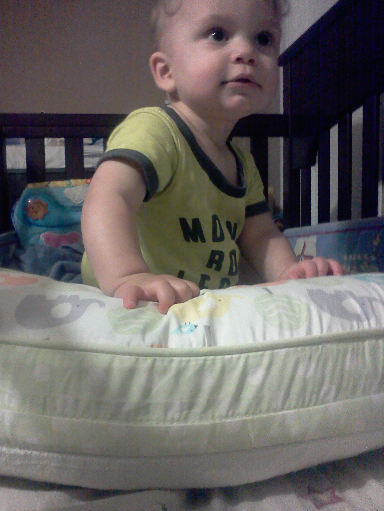 Be sure to follow Comfort & Harmony on Facebook to stay up to date on new products, slip covers, and to show of your bundle of joy on their wall! Find Comfort & Harmony on Twitter to get great tips, interact with the brand, ask questions, and more!
Special thanks to Comfort & Harmony for allowing us to review this product.