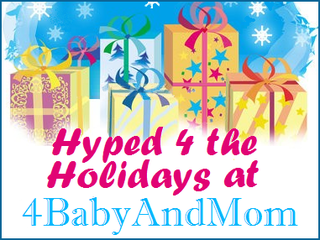 With the economy in such a crunch this year, I'm finding it's hard to find a lot of people who are crazy happy and excited about the upcoming holiday season. In our family it's definitely more the "reason for the season" that we celebrate, but the gift factor definitely impacts my mood. I love to give!

This holiday season we will be hosting our HYPED FOR THE HOLIDAYS Gift guide and giveaway event. We will be celebrating our blogoversary and highlighting some of our 'Must Haves' that we've chosen through the year, and offering some great reviews and prizes for Moms, Dads, Kids, and around the house!

Some of the amazing giveaways we'll be offering is from Avon, Shutterfly, Randomline (who makes one of the coolest games EVER!), Union28 and so many more!

We have very few spots remaining, so if you are a PR rep or company that wants your product featured, please do not hesitate to contact us at 4BabyAndMom at gmail dot com.

We are so excited to host this event, so keep on the lookout for our Hyped for the Holidays buttons and banners to add to your own personal website, blog, or Facebook account! Who's getting excited????