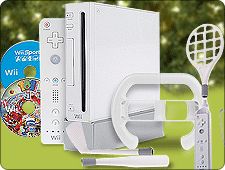 No fighting the crowds at the store, no waiting on long lines! Guaranteed delivery for Christmas, ships December 19! 4 Easy payments of $81.80, (total of $327.20) on the Nintendo hour on QVC. Not sure when to find it- right now, and again at 9pm EST.

The Nintendo Wii Bundle Package comes with the Wii console, Wii Sports, 101 in 1 game, all of the sports accessories, and two controllers! Get it while it's hot- before it's sold out.

Visit QVC.com for more accessories, or for Wii fit- also available on easy pay!!