As a family living in Florida, water safety is a big part of our lives. We go to the beach, we swim in our pool, and our friend's in-the-ground pool, we go to water parks and springs throughout most of the year. Summer doesn't last only two and a half months down here, it lasts about 7 months and then (believe it or not) it's too chilly for us to be in the water unless it's heated or inside.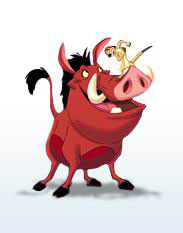 We had a pop up style pool last season, but the dog put an end to that at the beginning of this season. Needless to say, this season we've spent a lot of time at the beach and friend's pools. We are planning a trip to
Aquatica
after rainy-season is over.
Whether you live in the North, South, East or West, you and your children should check out the super cute video from UL and Disney's Timon & Pumbaa on being
Wild about Safety: In the Water
.
When most people think water safety, they think the usual stuff, like no running, stay near lifeguards, but what about wearing sunscreen and looking before you leap, or knowing where the
UL
listed life preservers are?
The kids will love watching it and so will parents, because it enforces all of the rules repeated throughout the summer. So stay safe this summer, and spread the word about this very important Water Safety message!
From UL:
From backyard tree houses, to jungle gyms, to neighborhood playgrounds, kids will be climbing and swinging all summer long. However, it's important for parents to be aware of the potential dangers associated with play sets. Each year, more than 200,000 children ages 14 and younger go to the emergency room for play set-related injuries. That's why Underwriters Laboratories (UL), a leading product safety testing organization, is providing easy-to-follow safety tips to help families "play it safe" this summer.

BEFORE INSTALLING A BACKYARD PLAY SET…
· Make sure your backyard is large enough for playground equipment. The site must also provide good visibility and security. Before setting up equipment, look out for obstacles, such as the garage, tree branches, utility poles and wires.
· Read and follow the manufacturer's directions when setting up play set equipment. Be sure your child's weight and age fall within the manufacturer's recommended limits for the equipment.
· Install protective surfacing, such as rubber tiles or mulch under the play set, at least six feed in all directions, to prevent serious injuries should a child fall.

BEFORE HEADING OUT TO PLAY…
· Carefully inspect backyard playground equipment. Make sure equipment is anchored safely in the ground, all equipment pieces are in good working order, S-hooks are entirely closed and bolts are not protruding.
· Check for spaces that could trap children, such as openings in guardrails or between ladder rungs. These spaces should measure less than 3.5 inches or more than 9 inches.
· Always supervise children on play set equipment to make sure they are playing safely.
· Never attach ropes, jump ropes, clotheslines, pet leashes or cords of any kind to play set equipment. If used improperly, they can be potential strangulation hazards.
· Watch for potential trip hazards, such as rocks, tree stumps and concrete footings. Make sure you're children are aware of them as well.
· Do a sandbox check. Before letting your child dig in, rake through the sand to check for debris or sharp objects. Also, inspect for any animal contamination or insect problems.
Summer Safety is so much more than around a pool or in your backyard. The best tip I have ever received is that it only takes a second for an accident to happen. Be alert, but have fun. Stay Safe, readers!
"I wrote this review while participating in a blog campaign by Mom Central on behalf of Underwriters Laboratories. Mom Central sent me a gift card to thank me for taking the time to participate."